Nexus 5: What I love, and what I don't
I've had my Nexus 5 for almost one week now, and I've absolutely loved using this phone. It's my first Nexus phone (but not my first Nexus device, that would be my 1st gen Nexus 7) and I think Google and LG did an exceptional job with this phone. This won't be a full-fledged review, as there are hundreds of those already on the web. This will just be me, sharing with you what I like the most about the phone, and a few things which I don't that could be better. In case you're wondering, I got the Storm Trooper (white) 32GB model, unlocked the bootloader and rooted it, with TWRP as my custom recovery. I used to regularly flash custom ROMs on my Nexus 7, but I'm now running stock 4.4.2 on both, with Xposed Framework and GravityBox providing me with the added customisability I want. In all honesty, I like this setup more. Got Action Launcher Pro powering my home screen, and other than a black carbon fibre skin I got from +iCarbons Inc , my phone will probably stay accessory free for the foreseeable future. So, here are 5 things I like about the hardware, 5 things I like about the software, followed by 5 things I don't like overall.
Firstly, the actual body of the device itself. It's absolutely a joy to hold. It's thin and light (feels lighter than my HTC One X, despite being the exact same weight), has a slightly rough texture on the back, not exactly soft rubber but not smooth hyper-glaze either, more like a hardened plastic feel. It's angular but has curved edges along the bottom, so holding the phone is comfortable. The glass on the front panel is excellent. Sliding my fingers over it is just so smooth. Typing on the device is an absolute breeze. Excellent design all around.
I love holding this phone.
The notification LED
The LED on the Nexus 5 is hidden beneath the glass and practically invisible, until it lights up. With an app like Light Flow I can have my LED blink green for notifications from Hangouts, red for missed calls and orange for low battery. Love it.
Circle earpiece
It's unique. That's pretty much it. I don't remember seeing any other phone from this year have a circular earpiece. Every other phone has a thin elongated earpiece. I don't know if it helps with call quality or not (probably not), but it sure does look cool.
Audio quality
Speaking of call quality, it's great. I can clearly hear the person I am speaking to with no problems. The circular earpiece might not improve call quality, but it definitely doesn't hurt it either. And the speaker on the bottom of the phone is pretty impressive as well. I got my phone after the 4.4.1 update was pushed to fix the initial problem with audio quality, so I don't know how bad it was prior. But the speaker is plenty loud for me. Notifications and ringtones are easily heard, I don't need the volume to be maxed out to enjoy listening to music, and audio from YouTube isn't a problem either. Some people don't like speakers on the bottom but the way I see it, I can have my phone on it's back or on it's front and the speakers will never be covered up.
Wireless charging
I have a powerbank with wireless charging capabilities, and using it is just too cool. With the powerbank charged up, I can literally charge my phone wirelessly. It really is quite awesome.
Wireless charging. Like a boss.
Smart dialler
I personally think that the new dialler on the Nexus 5 is one of the greatest software innovations of the year. All phone diallers are dumb. They just do what you tell them to do. There's no "smart" in our smartphone's phone app, which is hugely ironic. With Google Search integration, we can search instantly for public phone numbers, with those closest to us being shown first. We are also shown who is calling us (public numbers) if we don't have the number in our contacts. That is just brilliant. The phone part of the smartphone has finally gotten smart.
Finally, a smartphone.
Full-screen album art
This just looks amazing. I doubt many people will disagree.
White status bar icons
It's a completely cosmetic change, but it's true what a Google engineer said about white icons in the status bar being more neutral in nature, which makes them fit perfectly with any app. Holo blue icons in the statusbar with the bright orange colour of the Play Music app justifies this change.
KitKat soaked in butter (Project Butter for the uninitiated)
I used to use an AOSP ROM on my One X, but it was no where near as fast as KitKat is on my Nexus 5. I know it's not a fair comparison, a 4.2.2 custom ROM on a device that wasn't meant to run it will never match 4.4.2 on an optimised Nexus 5, but that just proves how important optimisation is. And KitKat is superbly optimised for the Nexus 5 (and other Nexus devices in general). If anyone ever says Android lags, tell them to get a Nexus and not a device with a poorly optimised OEM skin.
Google Experience Launcher
I personally don't use GEL anymore, I'm now using Action Launcher, but I do like what Google did with GEL. Bringing Google Now to the home screen was a smart move, one that will definitely highlight it as the core of the Google Android experience. And if it becomes available in the Play Store, even non-Nexus owners will be able to enjoy some KitKat on their non-KitKat devices. That's Google, trying to provide a great experience for all Android users.
Google Now on the home screen. Image: Google+
Now, 5 things which I don't like about the Nexus 5.
Wiggly buttons
My nexus 5 is from one of the earlier batches, before Google and LG refined the design. So I got one with wiggly power and volume buttons. It's not that bad, it doesn't affect my pressing of the buttons, they're still easily clickable, but yeah I would've liked them to be sturdier. Disappointed this was missed by QC at Google and LG, but happy they fixed it nonetheless.
White earpice
Earlier I said I love the round earpiece, but what I don't like about it is that it's white. Well, on the white version that is. With a pure black face, the only colour I expect to see should come from the LED. But with a white earpiece, I still need to constantly remind myself that it isn't a notification, it's just the earpiece.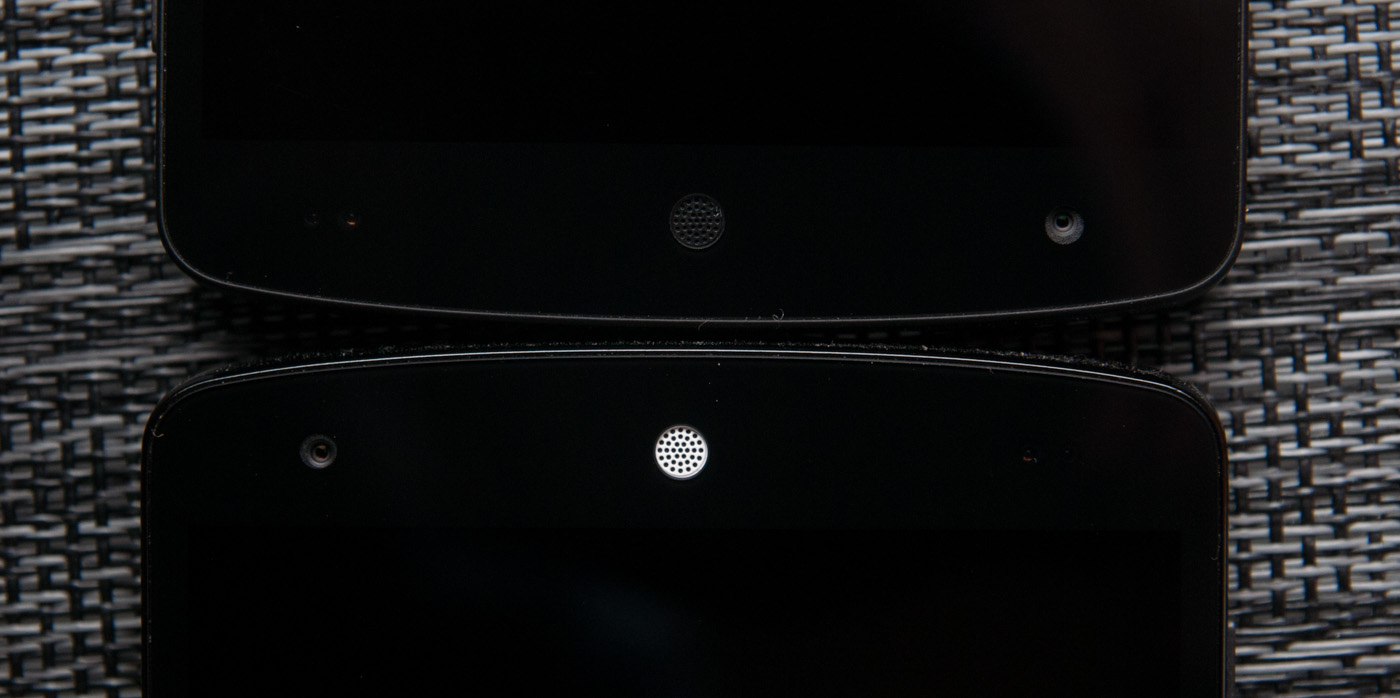 I prefer the black earpiece. Image: AnandTech
Gets a bit warm when charging
I've only charged it a few times since getting it, like once a day, but when I do it tends to get a bit warm. I should also say that I've only charged it wirelessly, never with a cable, so I don't know if that could have an impact. It's not hot, just a tad warmer than I would've liked.
Slightly protruding camera lens
This doesn't actually bother me that much. Coming from a One X, the protruding lens on the Nexus 5 is negligible really. It's slightly raised, like just a millimetre or so, so it's not a huge deal. Would've liked it to be flat, but if it's raised that tiny amount to house the OIS lens, I'll take it.
Just a small protrusion really. Image: Google+
Power button on the right side
This is something that won't bother many people, but it bothers me because I'm a lefty. Which means that I can't use my thumb to press the power button. Small matter, and with Gravity Screen I don't really need to be pressing the button too often anyway, so problem partially solved.
That's it. I have absolutely loved using my phone this past week, and I'm sure I'll continue to enjoy using it as time goes on. What are some of your favourite things about the Nexus 5? Anything you don't like about it? Please share in the comments!