5 differences between the black and white Nexus 5
One of the most common questions I see in the Nexus 5 Central community on Google+ by prospective Nexus 5 owners is, "Which should I get? Black or white?". In the end, it's always a matter of preference. I think what they really want to know on most occasions, is what the differences are between the white and black models. As some of you might remember, I bought the white model initially, which unfortunately was stolen after just a month of use. I got a replacement soon after, but this time I got the black model instead. Having used it for almost a month now, I wanna share with you the differences between the two. Of course, you can always read reviews or watch videos which are already out there, but my thoughts don't come from merely looking at the devices, they come from my experience of using them. So hopefully, you'll get a little more value from this post.
Feel
The first thing I noticed after taking the black model out of the box was that it felt significantly different from the white model. While the white model was smooth and had a slightly textured-plastic feel to it, the black was rubbery and had much more of a grip to it. The white model definitely feels like it could easily slip out of your hands, and the black just seems to give you a little extra confidence that it won't.
Smudges
The plastic on the white model was pretty resistant to smudges. I don't recall ever seeing any in my time with it. The black however, is a bit of a smudge magnet. After the first few days I started noticing some smudges from oily hands and fingers on the back. It's not terrible, but people with rather oily fingers and hands will definitely see smudges on the back of their black Nexus 5.
White ear piece
If you read the post I wrote after getting my first Nexus 5, you'll remember I said that one thing I didn't like about the white model, was the white ear piece. From a distance, I would often confuse it as the notification light. With the black model, I no longer have this issue, and I'm glad. I enjoy having a clean black surface instead of a black surface with a small white circle there popping out.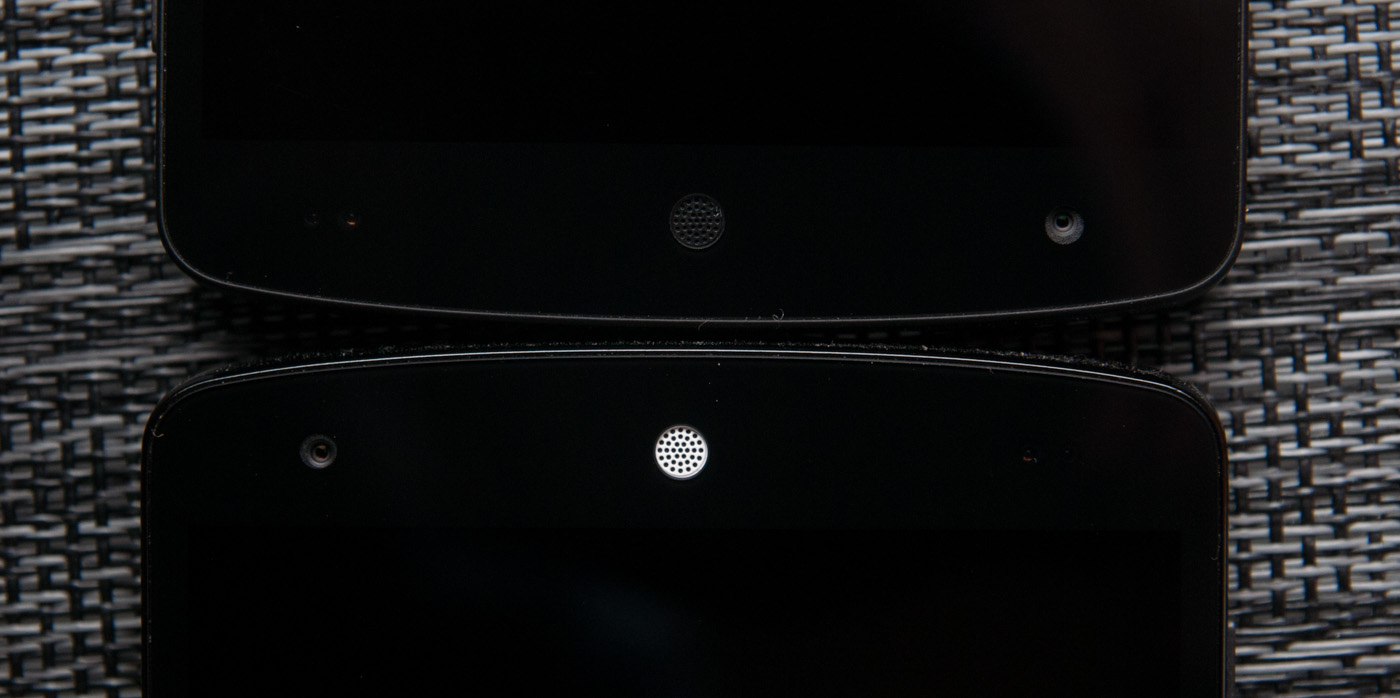 I'm much happier with a black ear piece. Image: Anandtech
Heat
One of the things I was most impressed with when I got the white Nexus 5 was that it didn't really get that hot. Not after some gaming, or even after a few minutes of navigating with GPS. But the black model does seem to get a bit hot, especially when charging. I don't know if it's the colour or the material, but the black model will be hotter than the white.
Black is sexy
Not really a legit point. I just like the black better.
There's just something sexy about an all black device. Image: 3G
If some of you are wondering about the red Nexus 5, I don't have any personal experience with one. But based on what I've seen and read, the material on the back and sides is similar to the black model, so all my earlier points should cover the red model in a similar way. Same goes for the red ear piece. I hope that helps. If you want to buy a Nexus 5, but were wondering what the differences are between using a black or white model (or red), I hope my thoughts help you with your decision.