Why Telegram is better than WhatsApp (part 2)
About three months ago, I wrote an article explaining why Telegram is a better messaging service compared to WhatsApp. It did quite well, and quickly shot up to be my third most popular post of all time. As a quick recap, the reasons I mentioned were faster and more frequent updates, Telegram is cloud-based which allows it to be used on multiple devices simultaneously and also allows users to store shared media in the cloud rather than on devices, usernames as a way to connect instead of phone numbers, and the ability to send files. I never planned to write another article on the issue, but Telegram just has so many benefits over WhatsApp, a single article wouldn't be sufficient. So here are five more reasons why Telegram is better than WhatsApp, and why you should make the switch.
More than just emoji - stickers and GIFs
Instant messaging is fun because we can do more than just send text messages. Emoji have been used to portray emotions for many years, but after such a long period of use, emoji just feels dull now. Luckily though, Telegram has alternatives for those who are no longer amused by emoji. Stickers in Telegram use cartoon images of famous people in place of emoji. There are a total of 29 different stickers, which include Abe Lincoln giving a thumbs up, Julius Caesar giving a thumbs down, Cleopatra flirting, Napoleon looking unamused, Nikola Tesla doing a face-palm, and Charlie Chaplin looking depressed. And if those stickers aren't your thing either, Telegram also supports GIFs (which are awesome). Something which inexplicably still isn't supported in WhatsApp after all this time.
Stickers can breathe new life into boring text conversations.
Built-in image/GIF search
So what if you want to send a GIF to someone but don't have any on your phone/computer? Do you need to open up your browser, search for a GIF, save it, then send it? Nope. Telegram knows how big and how fun it can be to send random images, memes, and GIFs to people, so they added a built-in search engine to their mobile app to allow users to search the internet for any image/GIF they want
from directly within the app. So whenever you feel like a picture or a GIF will better portray what you want to say, just open your gallery, search for an image/GIF, and share it right away. And once you've used the search feature to share an image, that image will remain in your history so you can easily use it again in the future. Pretty amazing feature to have.
Built-in photo editing
Let's say you have a photo you want to share with someone, but it just isn't quite right. You may want to crop something out of the photo. Maybe adjust the contrast or the saturation a bit. Well you can do all that without ever having to leave the Telegram app. In addition to having a built-in image search engine, it also has a basic photo editor
built-in as well
. So you won't have to rely on a separate app for some basic editing. Just select the photo you want to share from your gallery, edit it as you see fit, and share it. All without ever needing to open another app.
Photo editor built right into Telegram.
Keep your app secure with a passcode
Security is a hot topic nowadays. There are all kinds of measures and precautions being taken by tech giants to keep our data secure from hackers and would-be thieves. But sometimes, we just need to keep our data secure from nosy friends or family members. Data like our private chats. There may be instances where people close to us may get into our phones. Sometimes we may even willingly give our phones to them. And if your chats are something you want to keep private, you can do so with Telegram since the app allows you to lock it with a passcode. So you can share your device with others without worrying that they will snoop around your private chats in Telegram.
A passcode for Telegram can keep snooping eyes out.
Better group messaging - mentions and replies
Group messaging is an important part of instant messaging. Families, classmates, office colleagues, any type of group can benefit from having a central communication channel, and instant messaging provides a better alternative to e-mail. But let's face it. We all get annoyed with our chat groups. The constant notifications coming in from conversations that have absolutely nothing to do with us most of the time is why we have the option to mute groups. But the problem with muting groups is that we might miss a message that does concern us. Telegram fixes this issue by allowing users to mention (tag) each other, just like how it works on social media. This will allow users to mute groups, but still receive a notification if we are tagged in a message, ensuring we won't miss any messages directed at us. Another problem with group chats is that when several people are chatting at the same time, it gets confusing as to who is replying to who. Telegram has again solved this issue by allowing users to reply to specific messages. When we reply to a message, it will be displayed above our message, so people can see which message we are replying to.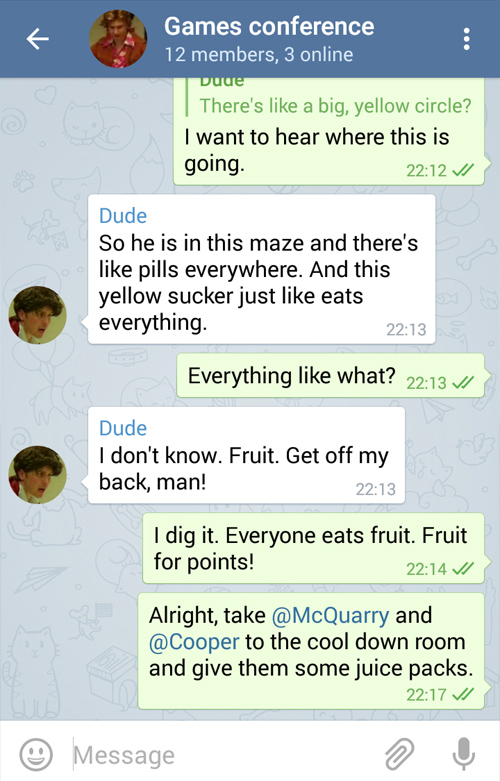 You can now reply (top message) and tag people (bottom message) in group chats. Source
Telegram is picking up steam across the globe. In many countries including the USA, UK, Italy, Brazil, Turkey, and even Malaysia, the number of messages sent daily has been increasing. This is largely due to the fact that Telegram is just so much better than many other similar services out there, including WhatsApp. In fact, a friend told me how his office actually requires employees to use Telegram as it allows them to easily send files to one another. As time goes on and more people start using Telegram (just today two of my contacts started using Telegram), word of mouth will help it grow even more. I never planned on writing this second part of why Telegram is better than WhatsApp, but I did because there's just so many reasons why it is. I have no plans to write a third part at the moment, but who knows. In a few months time I just might have enough reasons to write another article.